LMR
LABORATORY OF RADIOELECTRIC MEASUREMENTS
He Radioelectric Measurements Laboratory (LMR) is a unique facility whose purpose is to carry out tests of measurements of antennas, electromagnetic compatibility, radar section and electromagnetic signals of a diverse nature.
Parallel to these services, the laboratory also develops research projects associated with these lines of work.
LMR is a research laboratory that offers services to the university community, research institutes and companies. The infrastructure and equipment available in the laboratory provide a large potential value that, in combination with our technicians, allows to carry out projects and works satisfactorily.
The aims of the laboratory include
antenna measurement and testing.
EM compatibility measurements,
radar section measurements.
as well as other electromagnetic measurements of diverse nature.
In addition to the services already mentioned, the laboratory makes available to customers all their resources to fully cover custom specific services within the context of analysis, simulation and measurement of electromagnetic fields, radiating systems, radar systems, information technology equipment, etc.
These services are targeted to a wide range of industries including automotive, aerospace, naval, security, food and IT.
Alongside these services, research projects associated with the same areas are being conducted. Our technicians are endowed with a wealth of experience in both work and constant research and training in order to meet the technological needs of our users.
Radioelectric Laboratory Measurements (LMR) is managed by the Group of Antennas, Radar and Optical Communications (SC7) (University of Vigo).
Radiating Systems:
ANECOIC CHAMBER
The laboratory is equipped with a spherical range measurement system with which can be obtained complete radiation patterns of antennas up to 26.5 GHz, both far field and near field, VSWR characterization and determination of gain.
Due to the design of the measurement environment and the available resources, there is the possibility of increasing the maximum working frequency and performing antenna measurements up to 50 GHz.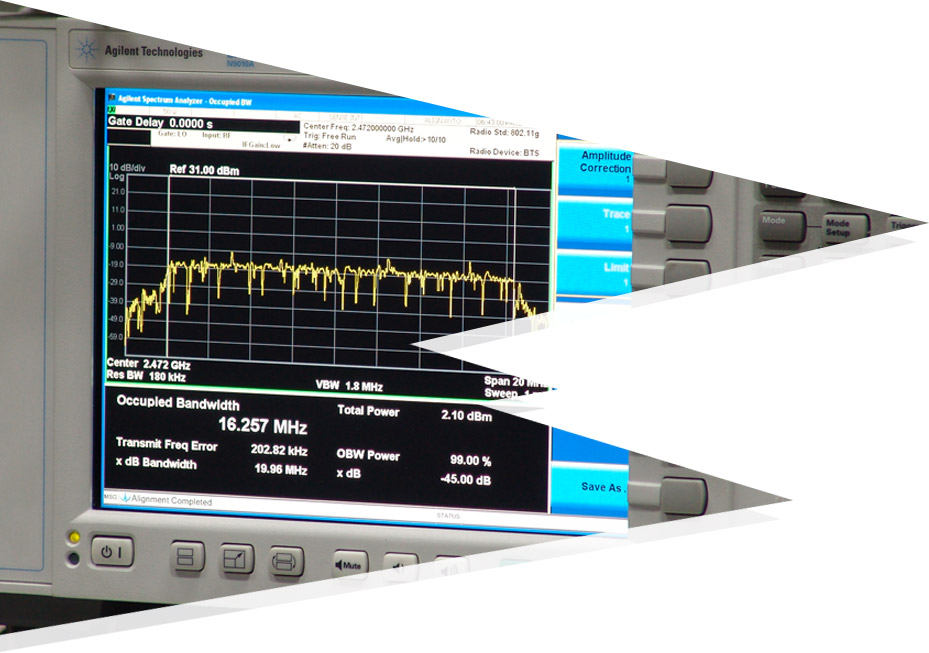 EMC Services
In our facilities we have a place especially prepared for performance of certain EMC tests (conducted emissions and immunity)
LMR offers the installations needed for companies to perform EMC precompliance of their equipments or products.
From the LMR the meaning of precertification is seen as a process of combination of tests and measurements, made in a collaborative environment among the company's technicians and laboratory technicians, whose end result is the achievement of the EMC compliance.
Tests about EMI and EMS can be performed, based on commonly used standards.
Radio signal measurement services:
RF measurements
The laboratory is equipped with equipment that allows making RF measurements, for power and signal quality measurements for both television signals and mobile telephony and other wireless services (Bluetooth, WI-FI,…). These measurements may be in a controlled environment (anechoic chamber) for equipment analysis in laboratory.
The LMR also offers the possibility of carrying out services and measurements in the field (in the case of services already deployed), thus making it possible to analyze coverage and generate maps and reports.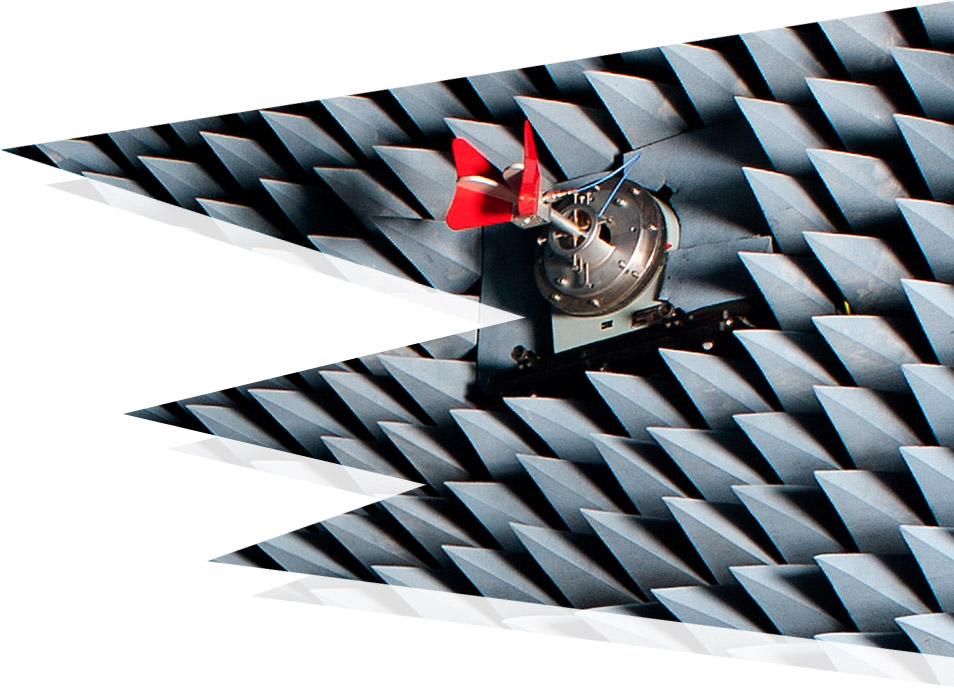 THz spectrometry service.
Unique and specific equipment for measurements in THz
The LMR has recently been equipped with unique and specific equipment for THz measurements:
THz Time-Domain Spectrometer.

Spectral range > 2THz. Spectral resolution <5GHz.
Continuous-Wave THz Spectrometer.Spectral range: [0.1-2THz]. Spectral resolution <10MHz

Millimeter measurement systems consisting of:

analizador vectorial de redes;
modules (Tx/Rx+Rx) VDI WR3.4 with calibration kit and standard antennas in the bands:

220GHz-325GHz (WR3.4)
500-750GHz (WR1.5)
750-1.100GHz (WR1.0)
This equipment completes the range of services traditionally provided. The performance of measurements in this frequency band allows us to carry out services in various fields:
Food quality control applications.
Quality control applications in leather, fabrics… o characterization of oil paints
Terahertz spectrometry.
Non-destructive testing of plastic composite materials.
Applications in security systems and hidden object detection.
Applications in molecular detection.
Applications in biomedicine.
More specific examples of measurements and applications include validation of the quality of packaged products (given that packaging materials are usually made of materials transparent to THz radiation), detection of antibiotic (tetracyclines, sulphonamides, etc.) and other residues in certain foods (milk, fish, etc.), detection and characterization of water levels in oil and other products, and inspection of critical safety components such as the thickness of the polymers in which airbags are inserted.
Collaborating companies
PARTNERS AND COLLABORATORS IN JOINT PROJECTS








 Resources
Our technicians are endowed with a wealth of experience in both work and constant research and training in order to meet the technological needs of our users.
Infrastructure and equipment available in the laboratory provides a huge potential value in combination with our technicians, allows to carry through projects and work carried out.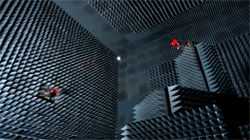 Anechoic chamber.
Dimensions: 7m x 9m x 7m (L x W x H)
Roll over azimuth positioner, ORBIT (Orbit AL-4273-1) (Orbit AL-560-1P)
Roll positioner (Orbit AL-360-1)
Antenna measurements: 500MHz – 50GHz
EMC Testing: 30MHz – 30GHz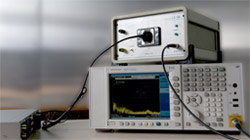 EMC TEST SPACE
In our facilities we have a space specially enabled to carry out certain EMC tests (immunity and conducted emissions)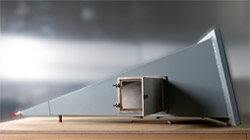 GTEM Cell.
Our team has a GTEM cell that allows testing the EMC immunitiy and radiated emissions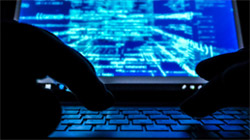 Commercial Software
Among the resources available to the Radioelectric Measurements Laboratory is a full suite of commercial software of various kinds developed by the top international manufacturers. This software provides support for conducting the different tests and measures in the various fields of work.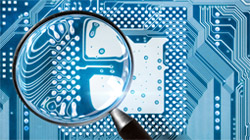 Custom Software
Occasionally, on those situations that require it, our staff could develop measurement automation, data acquisition, data processing and/or reporting software.